Laminating Service
Laminating Service for Printers, Sign Writers and General Public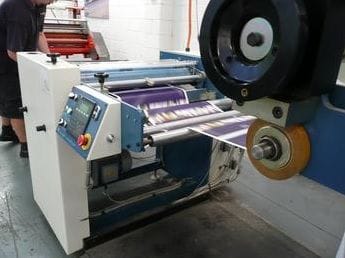 Lamination System have been providing South Australian Printers and Sign Writers with professional trade print finishing since 1988. We also provide laminating direct to the general public.
We specialise in all forms of laminating, giving our clients the benefit of over 30 years experience in celloglazing, encapsulation and wide format cold lamination.
Incorporating the latest automated equipment and dedicated staff with many years of product knowledge and print finishing experience, Lamination System are certain to produce a finish to be proud of.
We offer high speed automated encapsulation for menus, photos, certificates and posters as well as specialty wide format cold lamination up to 1600mm wide. Also available are specialty finishes such as adhesive backed laminating (for window displays), Sand finish for floor graphics, displays and mouse mats and cold outdoor PVC UV laminating.
Our trade print finishing division provide a celloglazing and plasticoating service for printers, applying 1 or 2 sided gloss or matt BOPP to business cards, book covers and folders from 10 sheets to 100,000 sheets.
Lamination System offer the fastest turn around in the industry and our technical advice and support makes the decision of which laminate to use easy.
Our laminating service includes:
Encapsulation (up to 1400mm)

Supagloss / Supamatt (1 or 2 sides)

Plasticoat / Celloglaze (1 or 2 sides)

Cold Lamination (up to 1530mm)

Foam mounting / Block mounting

Contact us on 1300 099 030 or via our contact us form, with your laminating requirements and to arrange a quotation.
Laminating Machine Repair and Servicing
Lamination System offer service and repairs to all makes and styles of roll machines and pouch laminators.
With the added benefit of being machine manufacters our comprehensive machine and tool shop carries many parts and are operated by technicians that have many years experience in carrying out repairs to common roll and pouch machines. We can also provide servicing and technical assstance for wide format laminators as well as automatic celloglazers.
Contact us on 1300 099 030 or via our contact us form to discuss your machine repair requirements.